Italian Street Painting Art PM (Ages 11-14)-FULL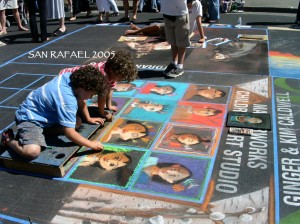 CURRENTLY FULL. Please contact lisa@masterworkskidsart.com to be placed on a wait list. Thank you!
Advanced students, need no prior experience with street painting, but must enjoy the chalk pastel medium. Street painters are a unique "tribe" of artists, often giving their talent to communities for this impermanent art form. Learn and practice the fine art of Italian Street Painting! Working outside as well as on black primed canvas students discover the impermanent art of street painting. Using primarily chalk pastels as well as some tempera paint, we explore the ancient, "performance" art of street painting. Focusing on education about world renowned (many local) professional chalk artists, students gain an appreciate for "Art For Art's Sake". Local artists will stop by to observe and participate. All materials and snack are provided for this first time art camp at Masterworks.
Ages: 11 – 14 Years
Times: 2:00 PM – 5:30 PM
Bookings
This class is fully booked.